It is said that one of the greatest graphic designers that ever lived was an art director, Helmut Krone, the pioneer of contemporary art direction and graphic design. Before Krone advertising wasn't great; it was all very much the same and basic; all focus was around the product and how great it was, but Krone changed that. 
He understood the audience much better than previous art directors and knew they were much smarter; no one likes to be told to buy something and advertising in the 60's was a perfect example of this bad advertising. When Krone came along he changed it using wit to advertise the products making it less obvious what the product is straight away and not forcing products on the audience. His adverts were more about engagement with the audience; using clever observation and most importantly advertising the truth about the product/service.
Some of Krone's breakthrough work includes the ads for Volkswagen (VW), back then VW's ad agency was DDB (Doyle Dane Bernbach) and I've decided to look at the ad agency's work today who still have VW as clients. DDB's executive creative director now is Jeremy Craigen. He has been at DDB since 1990 originally as a copywriter, he went on to win awards for his work including VW and other clients. He then made his way to the top through promotions; Director of Creativity to Creative Director to Executive Creative Director.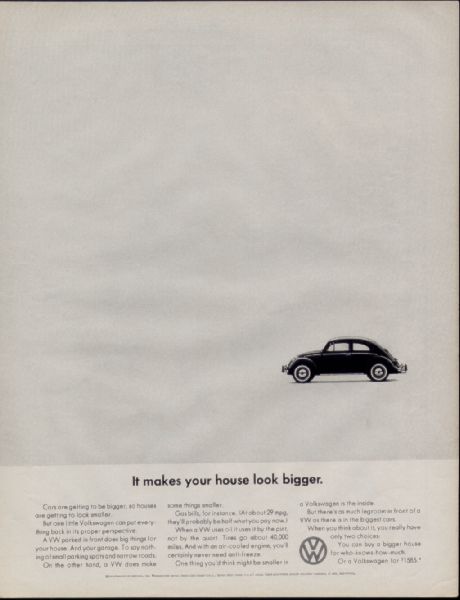 image to left is a Krone ad, image to right is a Criagen ad. both keeping the same simple witty design ethos, even using the same font. 
One memorable advert for VW is the "Singing in the rain, 2005" spot for Golf GTI; the idea is simple but witty. The ad seems to begin with what you think is original footage from the film Singing in the Rain, then suddenly the music changes to a more upbeat modern style (a remix of the original song by Mint Royale) and the film footage changes; the dancer goes along with the remix and starts dances in a modern street style. The product, the car, appears at the end of the ad with the dancer seeming to be going to his car to discover a traffic attendant/policeman there. The strapline appears at the end "The new Golf GTI. The original, updated." A really clever idea getting the message across in a witty way; this is the new Golf GTI its still the great original car it was but we've updated it and its better!
Craigen has stuck to Krone's method of design; getting a witty messge across well so that it isn't obvious that its an advert by entertaining the audience and placing the product expertly.
for more information on how it was produced have a look here, technical thinking behind the problem is very interesting. http://news.bbc.co.uk/1/hi/magazine/4312217.stm